I set them aside until a good idea could come to mind (plus I was really busy with work for a few months)… and then all of a sudden
This picture was my inspiration:
So I grabbed a 4x4 instead.  It was about $8.  I had the "Big Saw" (at the store) cut it in half for me.
This took some time, but it wasn't too hard.  I started by marking my rectangles with a pencil.  Then I used my dad's old  Dremel tool to carve out the rectangles. (Thanks Mom for donating it to the project cause!)  It was my first time using a Dremel tool and it was pretty neat.  I spent some time with the directions and used the only wood carving attachment in the case already.
I ended up using a large drill bit to make several holes (as many as I could) in each rectangle.  The drill removed a good amount of material, which made it easier for the Dremel tool to then shape the peg hole.
When I finally got the "peg holes" deep enough, I inserted the 1x2s and drilled a wood screw through the back of the 4x4s to hold the ends in place.
Next I used the Dremel tool to trim the panels to size, which just required a few cuts and some patience.  There were a lot of sparks, so I went pretty slow. (The tool came with special "cutting disks" which are designed for metal.)
Before:
 
What do you think?  For $20 (metal things) + $15 (lumber) = $35, I think it's a winner :)
I should also mention I had to buy a fresh quart of the Coastal Villa paint ($11) and the Restore-A-Finish was $8.  So you could add those in and the total comes to $54 (but I'll use those for lots of other projects, so the cost will be spread out.)


Thanks for stopping by!  I'm off to think about my next project….. :)
I'm linking up to:
and
Thrifty Decor Chick's Before and After Party
and
Motivate Me Monday
and
Make it Yours Day at My Backyard Eden
and
Transformation Thursday at the Shabby Chic Cottage
and
Time Travel Thursday at the Brambleberry Cottage
and
Under $100 Linky Party at Beyond the Picket Fence
and
Frugal Friday at the Shabby Nest
and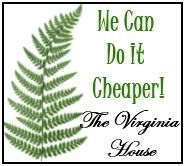 Please stop by some of these blogs and check out all the awesome projects – and be sure to leave some comment love for your favorites :)